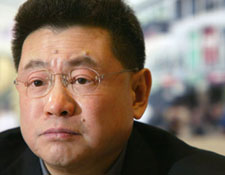 Joseph Lau
Hong Kong 17 April 2012. Joseph Lau and Steven Lo, both Hong Kong billionaires have been mentioned in the trial of Ao Man-long, Macau's former secretary for transport and public works.
Ao is serving a 28 year jail term for bribery and money laundering.
A company belonging to Lau and Lo was one of the three bidders that submitted tenders in 2004 for five parcels of land opposite Macau's airport.
An assessment committee had found that none of the tenders met requirements. Lau and Lo's company, which was not named, won the tender after Ao became involved and received a bribe of $2.6 million. Ao was the only person being charged in the trial. No charges were filed against Lau and Lo.